Riverside, the Farnsley-Moremen Landing exists to promote, preserve, restore and interpret historic farm life on the Ohio River.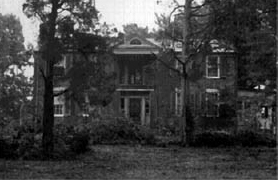 The Farnsley-Moremen House (built circa 1837) stands atop a gentle rise overlooking the Ohio River. It is the centerpiece of a nearly 300-acre historic park now known as Riverside, the Farnsley-Moremen Landing. Throughout much of its early history, a riverboat landing on the 19th century superhighway called the Ohio River connected this farm to the wider world.
The impressive two-story brick "I" house with its full-height Greek Revival portico was completed by 1837. Gabriel Farnsley had purchased the 200 acres, upon which the house is built, with a business partner in 1826. By 1828, Farnsley was the sole owner of the property. Farnsley prospered at his Ohio River farm located 13 miles downriver from Louisville. By 1849, the year of his death, Farnsley had increased his land holdings to 400 acres.
Although Gabriel Farnsley was a bachelor, he didn't live at Riverside alone. As many as 15 enslaved people lived and worked at Riverside from 1828-1849. Their labor and skills built the house that has survived for nearly two centuries. Their work sustained the entire farm operation and the riverboat landing. Enslaved people would continue to be integral to the success of the farm until the 13th Amendment to the Constitution abolished slavery in 1865.
Alanson and Rachel Moremen purchased the original 200-acre tract in 1862. They acquired additional surrounding properties bringing the size of the farm to 1,500 acres, the largest farm in Jefferson County, Kentucky, at the time. By the 1880s, the aging Alanson began legally dividing the farm among his heirs. Moremen family descendants owned the property until 1988 when they sold the house and remaining acreage to Jefferson County.
Today, visitors to Riverside, the Farnsley-Moremen Landing can tour the historic house and grounds which include:
the reconstructed 19th century detached kitchen,
on-going archaeological excavations (seasonal), and
the kitchen garden where volunteers grow many of the same vegetables and herbs that would have been part of meals served during the period.
A modern Visitors Center houses an auditorium, museum exhibits and a museum store.