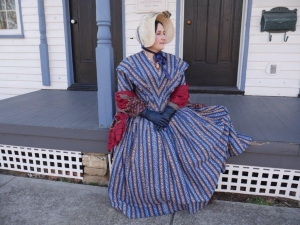 What was it like for a Victorian Woman to get dressed? What all really went under those clothes? And how do we even know this?  Amy Liebert will get dressed in the style of an early Victorian Woman, discussing the various layers that went into creating the 19th century silhouette, including petticoats, drawers, and corset. This presentation will also include a show-and-tell with antique clothing. Amy will also talk about the process of researching historical clothing, and recommend some good sources and further reading if you are interested in learning more. This presentation will include time for questions and answers.
Amy Liebert is a transplant from the San Francisco Bay Area. Since moving to Louisville in 2013 she has taught History at Jefferson Community & Technical College, where she is currently the Department Head for History & Political Science.  When she is not teaching history in the classroom and museums, she is found in her garden or sewing room in La Grange with her husband and their three cats.
Just click HERE to purchase your $5.00/person ticket for this presentation. Call 502.935-6809 for more information.