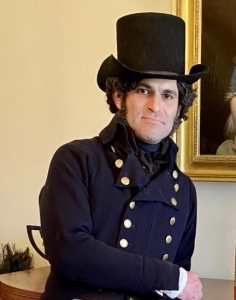 Brian Cushing traces the progression of how men's clothing changed over the course of the 19th Century grounded in what was going on at Riverside, the Farnsley-Moremen Landing as the changes happened. Original clothing items from the 19th Century, art work, photographs, advertisements, and more will bring it all to life again.
Brian Cushing has been immersed in researching, examining, and recreating the ins and outs of what men wore and many other facets of day to day life throughout the 19th Century for most of his life. As Program Director at Historic Locust Grove, he helped design and execute the small farm distillery project and currently serves as Executive Director of the Shelby County Historical Society.Society. He lives in La Grange, Kentucky with his wife who shares his passion for adventures with history.
Just click HERE to purchase your $5/person ticket now! You can also call us at 502.935.6809.