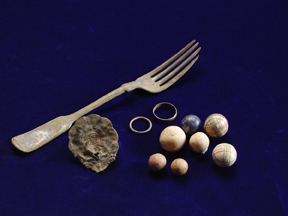 WE WILL RESCHEDULE THIS EVENT SOMETIME SOON. THERE ARE SEVERAL MORE DATES COMING UP ON OUR CALENDAR. LOOK AHEAD ON OUR EVENTS PAGE.
THANK YOU FOR UNDERSTANDING!
Learn about "the other side of archaeology" and get an up-close look at the artifacts that have been found during recent digs at Riverside. Work with archaeologists from the Kentucky Archaeological Survey to wash, identify, sort and study artifacts from the property. The experience will include a behind-the-scenes tour led by an archaeologist of locations of past and current archaeological sites including, the detached kitchen, slave (later tenant) houses, smoke house, wash house, ice house and barn. See how archaeology is contributing to the understanding of the history of Riverside. Come by yourself, bring a friend, or bring the kids. Special behind-the-scenes tour offered at 11:30 am (weather permitting). The lab program is offered from 10 am to 4 pm. Contact us at 502/935-6809 or email info@riverside-landing.org.