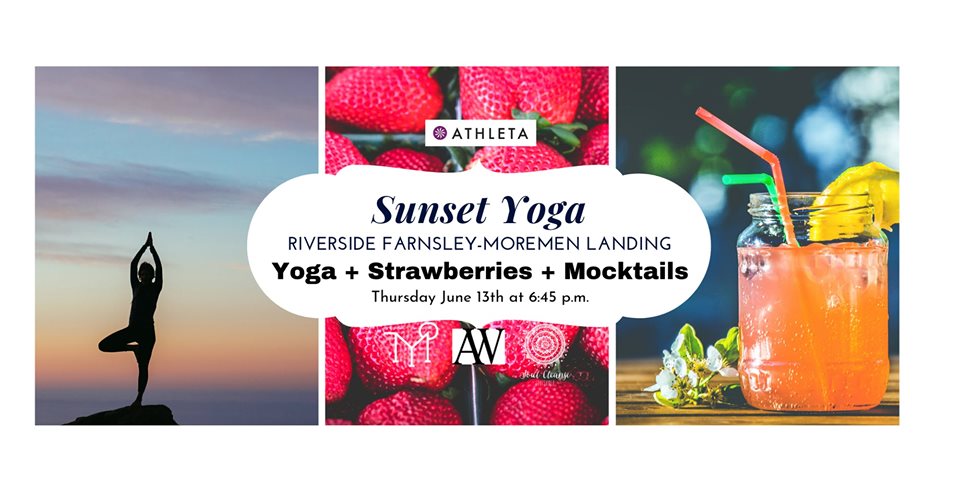 Join us on Thursday June 13th and raise some love for two historic gems in southwest Jefferson county-
Riverside Farnsley-Moreman Landing
and
Friends of Farnsley-Kaufman House
Whether you are a seasoned yogi or a beginner–this class is ALL levels and everyone is invited! Ashley Baldwin, local yoga teacher, will lead everyone through the fun and gentle practice with the beats of DJ Sam Sneed. Our yoga practice will begin outside on the riverfront with some simple breathing techniques to help silence the mind, followed by gentle stretching, a few standing balancing postures, all while connecting our mind with our body.
After our soothing & rejuvenating yoga practice, we will roll up our yoga mats and enjoy a craft mocktail by The Mocktail Project and a yummy homemade strawberry shortcake. Yogis will also have the option to grab a snack from local food trucks.
$10 includes admission to the property, class, mocktail and strawberry shortcake
6:00 p.m. – 6:45 p.m.: Check in/explore Riverside, sample mocktails
6:45 p.m. Class begins with Ashley Baldwin and DJ Sam Sneed
7:45 p.m. Class ends, enjoy mini strawberry shortcakes and a craft mocktail from The Mocktail Project (included with ticket) and grab a snack
Sponsored by Athleta and Alex White, Esq.