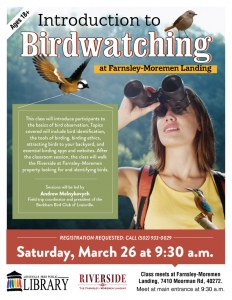 Take part in this INTRODUCTION TO BIRDWATCHING CLASS led by Andrew Melnykovych, field trip coordinator and president of the Beckham Bird Club of Louisville. This class will introduce participants to the basics of bird observation. Topics covered will include: bird identification, the tools of birding, birding ethics, attracting birds to your backyard, and essential birding apps and websites. After a classroom session in Riverside's Visitors Center, the class will walk the property looking for and identifying birds. (Recommended for ages 18+)
Held in partnership with the Louisville Free Public Library/Southwest Regional Library Branch.
REGISTRATION REQUESTED: Call (502)933-0029.