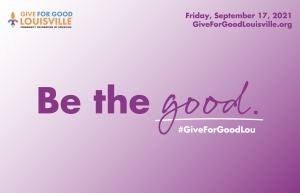 Hosted by the Community Foundation of Louisville, Give for Good Louisville is an unprecedented day of unity in the name of philanthropy. Communities from across Kentucky and Southern Indiana join forces to give vital support to 550+ participating organizations creating positive change for thousands of individuals. Join us to unite for good when this year's giving day returns on Friday, September 17, 2021!
Make History Happen!
Riverside, the Farnsley-Moremen Landing invites you to give so that more students can participate in our award-winning, hands-on history/archaeology Building Blocks of History field trip. Your gift can cover bus transportation for an in-person field trip–or a school's fee for our virtual field trip experience. No matter what COVID does this school year, we WILL offer rich and meaningful learning experiences. When cost is a barrier, your gift will make participation possible for any school group.
Support our efforts by following this link:
https://www.giveforgoodlouisville.org/organizations/riverside-the-farnsley-moremen-landing-inc