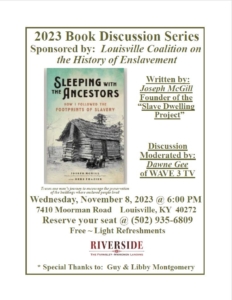 We invite you to participate in a book discussion facilitated by WAVE-3's Dawne Gee about a new book written by Joseph McGill entitled Sleeping with the Ancestors (Hachette Books, 2023). Join us on Wednesday, November 8 @ 6:00 PM at the Riverside Visitors Center. Mr. McGill's book traces his journey over the years to encourage the preservation of the buildings where enslaved people lived and to create spaces for learning, understanding, and connecting with the past. Free admission, but space is limited so reservations are encouraged. Call: 502-935-6809. Light refreshments available at the event.
You can also reserve your space on EventBrite by clicking here.
This is the final 2023 book discussion in a series presented by the Louisville Coalition on the History of Enslavement. Special thanks to sponsors Guy and Libby Montgomery.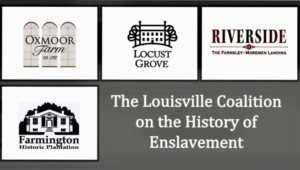 If you wish to purchase a copy of Mr. McGill's book, copies are available for sale at each of the Coalition site's museum stores.