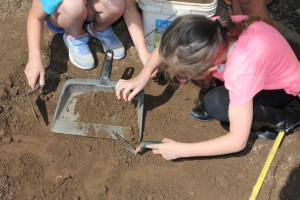 Come out for a free family-friendly event and connect with your "inner Indiana Jones" on Sunday, October 21st from 1 PM to 5 PM. We've chosen to celebrate the 25th anniversary of the opening of Riverside, the Farnsley-Moremen Landing with the revival of our Archaeology Day event!
Featured activities include:
public archaeology dig
prehistoric Native American tools and technology demonstrations
brick making activity
special archaeology tours of the Farnsley-Moremen House and grounds
artifact identification and processing
talks on "Kentucky Before Boone" presented by Gwynn Henderson of the Kentucky Archaeological Survey and "Historic Clothing" (there is an archaeology connection!) presented by Brian Cushing of Historic Locust Grove
Dedication of the "David Armstrong Pavilion"
Planned release of new book on Riverside!
~ Food concessions provided by Valley Dairy Freeze ~